In Loving Memory of Erika Renee Ariza
Erika was born April 8, 1990 in Fremont, California and was killed in an automobile accident on November 15, 2002 in Galt, California. There are no words to explain the depth of our loss. Our lives have been forever changed. In place of joy and laughter, there is sadness and tears. We will remember her forever.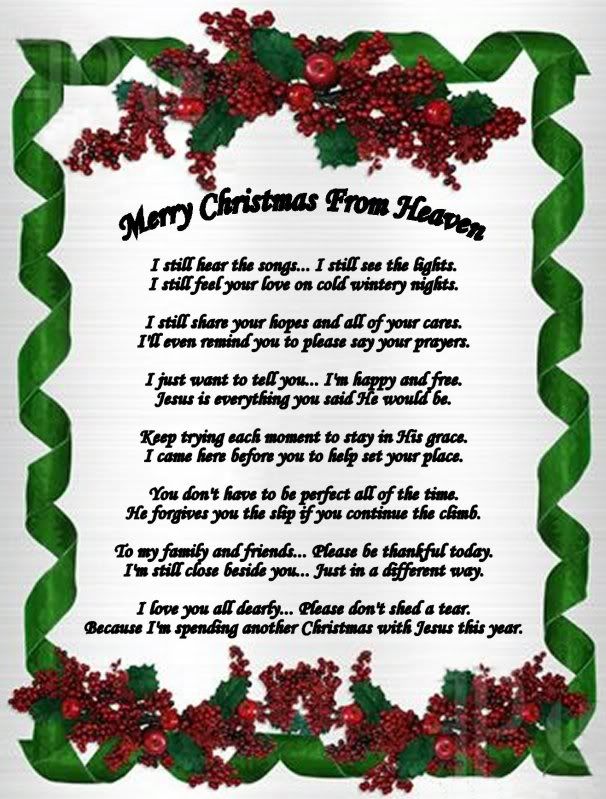 I MAY BE NOTHING BUT A DISTANT MEMORY

To some I may be nothing more than a distant memory.
My life on earth is over now, but do you remember me?

I know I wasn't here long, but God's work for me was through.
Please don't stop the thoughts of me because I never will of you.

Some may hear or speak my name and vanish the thought of me.
Why is it now that I am gone, no one stops to see?

I'm closer to you now than I ever was before...
And my love for you all is not just for now but forevermore.

So please don't let my memories slowly fade away….
For I'm still inside your heart where I will always stay.

Don't think of me as gone forever, someday we'll meet again.
Keep me close inside your heart until God tells you when.

You may be there for many years, no one ever knows.
So let my memory stay alive, as the love inside you grows.

Some wonder why God called for me sooner than they'd planned.
But please don't be mad at Him, For I'm in the Master's hands.




Please remember me with love and with each tear that you cry.
Remember I'm beside you still, although I said good-bye.









WHEN TOMORROW STARTS WITHOUT ME

When tomorrow starts without me, I won't be there to see.
If the sun does rise to find your eyes all filled with tears for me…

I wish you wouldn't cry so much, the way you did today.
While thinking of the many things, we didn't get to say…

I know how much you love me, as much as I love you.
And each time that you think of me, I know you'll miss me too…

So when tomorrow starts without me, please try to understand.
An angel came, called my name, and took me by the hand…




The angel said my place was ready, in Heaven far above.
And that I'd have to leave behind, all those I dearly love…

Yet as I turned to walk away, a tear fell from my eye.
For all my life I knew for certain, I didn't want to die…

I had so much to live for so much I wanted to do.
It almost seemed impossible that I was leaving you…

I thought about all the yesterdays, the good ones and the bad.
I thought about all the love we shared and all the fun we had...

If I could go back to yesterday, for just a little while.
I'd give you a hug and kiss you, hoping to see you smile…

Right then was when I realized, that this could never be.
For emptiness and memories would take the place of me...

And when I thought of worldly things, I may miss tomorrow.
I thought of you and when I did, my heart was filled with sorrow...

But as I walked through Heaven's gate, I felt so much at home.
When God looked down He smiled at me from His great throne.





He said, "This is all eternity, everything that I've promised you.
Today your life on earth is past, but here it starts anew…

I promise no tomorrow because today will always last.
And this is why there'll never be any longing for the past...

You have been so very faithful, so trusting and so true.
Though you did do some things, you knew you shouldn't do...

But you have been forgiven, and now at last are free.
Won't you come and take my hand to share my life with me...

So when tomorrow starts without me, don't think we're far apart
For every time you think of me, I'm right there in your heart"...









AND GOD SAID


I said, "God, I hurt."
And God said, "I know."

I said, "God, I cry a lot."
And God said, "That is why I gave you tears"

I said, "God, I am so depressed."
And God said, "That is why I gave you sunshine."

I said, "God, life is so hard."
And God said, "That is why I gave you loved ones."

I said, "God, my child died."
And God said, "So did mine."

I said, "God, it is such a loss."
And God said, "I saw my Son nailed to the cross."




I said, "God, but your loved one lives."
And God said, "So does yours."

I said, "God, where are they now?"
And God said, "Mine is on my right and yours is in the light."






If tears could be a stairway and memories a lane .....
I'd walk right up to heaven and bring you home again.








Thank you Mema for sponsoring Erika's memorial page!



IF LIFE HAS YOU DOWN....
IF EVERYTHING SEEMS TO BE HOPELESS....
IF YOU'RE STRUGGLING TO GET THROUGH TODAY....
THIS IS AN AWESOME SITE TO SEE ............

http://www.andiesisle.com/icanonlyimagine.html




Looking for graphics to use on your website?
Please visit ..... http://Graphics4U2C.piczo.com




In Memory of Laci & Connor Peterson
December 24, 2002


http://www.lacipeterson.com